Which Throne Did Church Hierarchs Sit on in Rus'?
On 22 January 2019, Andrey Vinogradov and Mikhail Zheltov presented a paper in 'The Symbolic Middle Ages' Seminar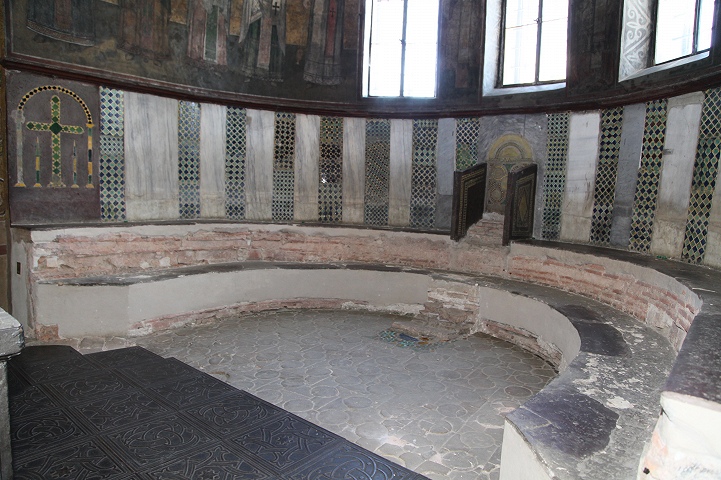 In their paper, Andrey Vinogradov and Mikhail Zheltov examined the evidence concerning the inauguration of church hierarchs in Rus' in the period before the Mongol invasion. At the time, the hierarchs were enthroned in accordance with the middle Byzantine practice not in their cathedral city, but in the same city where they were ordained: the Metropolitans of Kiev in Constantinople, and ordinary bishops – in Kiev. Due to the integration of the rite of enthronement into the rite of ordination, Russian metropolitans came to Kiev after they already had been 'enthroned' long ago in far-away Constantinople. This was why their enthronement was never (!) mentioned in chronicles. Moreover, the lack of the ecclesiastical-political significance of the term 'enthronement' led to its later application to the power of princes and the tsar. In contrast to this, the chronicles' expression 'посаженъ на столѣ, въведоша... на столъ' (enthroned, sat… on the throne) referred not to 'enthronement', but to the act of a bishop's entrance into his residence. This ritual was also known in the Latin West, where it played an important role for both the popes and other bishops, while it is not recorded in Byzantine sources. The existence of this rite in Rus', which is most vividly testified in the history of Mitrophan of Novgorod, seems to reflect a tendency towards the 'feudalization' of episcopal power in Rus'. It was perhaps approaching Western models and departing from the Byzantine 'bureaucratic' model, in which the bishops could not fully control their residencies, all financial and legal affairs of which were managed by independent stewards.
The paper also proposed a new chronology of the Metropolitans of Kiev up to the middle of the eleventh century: Theophylact was transferred from the metropolitan see of Sebastia to Rus' at some point before 1015, Theopempt became the metropolitan not later than 1039, John I – after 1039 and until 1051, Hilarion became the metropolitan in 1015 (likely, after 24 July) but was not the metropolitan anymore in 1052 (by 4 November). Ephrem obtained the see in 1052 (before 4 November) and was the metropolitan until 1055 as the earliest, possibly 1058. Therefore, George, who is mentioned under the year 1072, could become the metropolitan already in 1058 or slightly later.